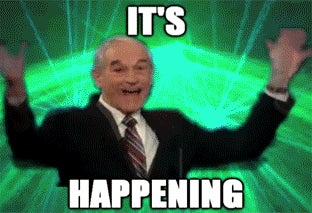 I'll update this post with my progress on the first PC I've built in a decade (!!!). Wish me luck, TAY!
UPDATE #1: Mission Accomplished
I have conquered the beast... mostly. Here's what I put together:
Rosewill Redbone ATX Mid-Tower Case
Rosewill Stallion Series 600W Power Supply
AMD FX-8350 Black Edition Vishera 4.0GHz 8-Core Processor
ASUS M5A97 ATX AMD Motherboard
G.SKILL Ripjaws X Series 8GB 240-Pin DDR3 SDRAM
PowerColor AXR7 260X Radeon R7 260X 1GB 128-Bit GDDR5
Seagate Barracuda 1TB 7200 RPM 64 MB Cache SATA Hard Drive
WHAT DID WE LEARN?
1. Glad I never tried to be a surgeon. I have the fine-motor skills of a junkie in withdrawal. And so. Much. Sweat.
2. Installing the CPU cooler was terrifying. I really had to jam that sucker in there.
3. Everything else was pretty straightforward, except when I had to google how to take off PCI Slot Covers. IT SEEMED MORE DIFFICULT THAN IT WAS.
4. Aaaand, I forgot about windows. OH THAT THING. So I'll probably pick up a copy tomorrow at some ludicrous price. I went to MS's website to try and download a copy, but they're only providing windows 8. Frowny face.
5. Victory tastes good, but not as good as food. I haven't eaten since lunch and my body is not happy with me.
So that's all for this episode of "This Old PC." Thanks for tuning in! When it's up and running in full I'll report back! Here are some more pics!
Some of these pictures are out of order. I am too hungry to care.
UPDATE #2: GIGA DRILL!!!!!
Here it is! So pretty! I'm still getting my drivers and everything finalized, but I've already installed some of my favorite games. Let me just say that, as a Mac owner (from 2010, no less), running Skyrim at Ultra-high settings getting ~35 frames felt great. Can't wait to try my luck with some mods.
I've still got plenty of work to do... For starters, this graphics card is fine for now but it'll probably need an upgrade before this year's over. And of course, I want an SSD drive. I may pick that up when my tax return comes in, provided I see a good sale (luckily, they seem to be going on sale a lot these days). And of course as you can see it's a HTPC for my living room, so I'm looking into using XBMC for easy browsing/gaming. All in good time, poco.